Digital Layout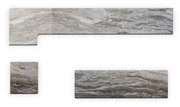 Our standard procedure requires that our fabrication team make the best use of your chosen material. If you have a specific request, the digital layout allows you, the customer, the ability to review and approve the target layout prior to fabrication.
While this option does put you closer to programming to help pick and choose what parts of the stone you would like to see used; our fabricators must still make best use of stone.
IMPORTANT NOTES:
*If issues occur during fabrication, changes in the cut & layout will need to be made without notice. Fabrication often works off hours and weekends to meet install dates.

*If you insist to cut from a section of stone that would cause increased material waste and if approved, the extra material use will be added to the square footage material cost.

The Digital Layout option often adds a few business days to the turnaround times, allowing for layouts & correspondences.