Seam Expectation & Clarification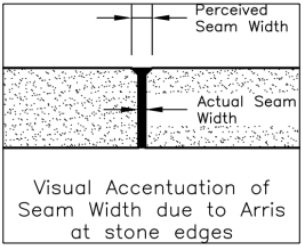 Countertop Seam Education
Granite Works feels that product education is very important to having a successful project together. One topic is seams. We ask that you please have realistic expectations of a seam in your natural stone or quartz countertop.  A seam in our countertop materials should not be the first thing you notice when you walk into the room. A good seam will be something you can both see and feel but still not strikingly noticeable.  We have samples of seams for you to view our quality in both a granite countertop as well as quartz.

Joint (Seam) Widths:
Joint width does not include the dimension of an arris on the stone edge. When an arris is used, the perceived joint width may be greater than the actual width due to the seam filler occupying the width of the arris.

Lippage:
The term "lippage," as used in the stone industry, is the planar offset of the finished surfaces of two adjacent stone units. Due to the relatively tight seams used in countertop installations, even minor amounts of lippage are noticeable. Lippage may be unavoidable due to permanent warp in the slab stock. There should be no detectable lippage at the front edge of the countertop. See Sketch Below

Exposed Edges:
Exposed Edges of adjacent stone slabs must be matched in thickness and properly installed so that neither the top nor bottom surface exceeds lippage tolerances.

Vein Trend:
When using materials with obvious trend (movement), all materials shall be installed with vein trend running in the same direction unless otherwise specified. For materials with very active movement, it should be expected that the result of your seam may contain a vein that flows into the seam and then stops. If your material selection has high movement and active veining it is suggested that you consider purchasing the Digital Layout Countertop Investment option. With this service, we involve you digitally via email to assist in visualizing how your countertops will be cut.  This allows you to discuss pattern flow and to visualize what your overall final project will look like in respects to the countertops.

Industry standards from the Marble Institute of America can be found in the "Homeowners Guide to Countertop Installation". We have this document available at your request.

Seam location and frequency is influenced by the available stock of the selected species of material. Seam location is also placed with consideration of the least vulnerable area for breakage. There tends to be some controversy as to whether seams should be placed in the center of a sink or in the center of a cook top cut out. Granite Works, LLC, is open to discussion on seam placement and we will give our best recommendation for seam placement.

During installation, typically, our first attempt to fit the seam together isn't perfect. It may take a few attempts to dry fit and remove the tops from the home to adjust as needed. This process could require multiple attempts to achieve an acceptable fit. No need to worry, this is a normal procedure.

We thank you for taking the time to read this document and allowing us to educate you on Countertop Seams. We are excited for you to enjoy your new countertop!

By signing hereunder, I acknowledge and accept the information provided to me respecting countertop seams.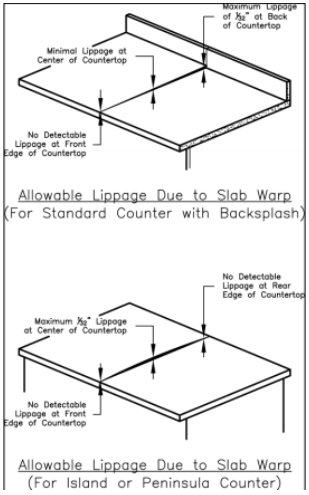 Homeowner _______________________
Date ____________
*Click for full print version

...download>>