Seam Expectation & Clarification
Countertop Seam Education

Granite Works feels that product education is very important to having a successful project together. One topic is seams. We ask that you please have realistic expectations of a seam in your natural stone or quartz countertop.  This documents allows for us to provide proper education on countertop seams.
A seam in our countertop materials should not be the first thing you notice when you walk into the room. A good seam will be something you can both see and feel but still not strikingly noticeable.  We have samples of seams for you to view our quality in both a granite countertop as well as quartz.
As veteran fabricators, Granite Works always works to accomplish a tighter fit than the industry standards sets forth. Industry standards from the Marble Institute of America can be found in the "Homeowners Guide to Countertop Installation". We have this document available at your request. It discusses how it is recommended that countertop seams can be up to 1/16" wide with a +/- tolerance of 1/64". It also discusses how lippage of the stone is sometimes unavoidable due to permanent warp in the countertop material. Sometimes, even minor amounts of lippage are noticeable. No detectable lippage should be visible in the front and no detectable lippage should be visible in the back. However, 1/32" maximum is acceptable near the center of the seam.  Here is a diagram for better clarification: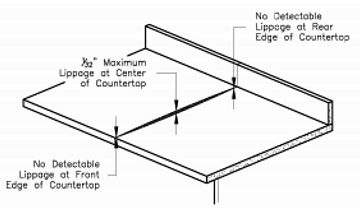 The location of your seam is placed in the least vulnerable area for breakage. There tends to be some controversy as to whether seams should be placed in the center of a sink or in the center of a cook top cut out. Granite Works, LLC, does not recommend this with most applications, however if you prefer to have a seam in either of these areas please let us know and we will give our best recommendation for seam placement.

Layout appointments are suggested on stones with movement and/or flow. We will know the length and width of your material and will be able to determine precise location prior to cutting your slab(s). Layout appointments allow for you to vocalize your seam location preferences and the pattern of your countertops.  We ask that you either be present during this process, or for your convenience, we can offer this appointment digitally, via email.

Countertop seams are boned with an epoxy similar in color to the countertop material. These seams are never bonded with silicone.

During installation, typically, our first attempt to fit the seam together isn't perfect. It may take a few attempts to dry fit and remove the tops from the home to make adjustments as needed. This process could require multiple attempts to achieve an acceptable fit. No need to worry, this is a normal procedure.  We ask that you please make yourself available for your installation. This is the perfect opportunity to address and discuss and concerns prior to the countertop being permanently installed.

We thank you for taking the time to read this document, and allowing us to educate you on Countertop Seams and we are excited for you to enjoy your new countertop!
By signing hereunder, I acknowledge and accept the information provided to me respecting countertop seams.

Homeowner ______________________________________
Date ________________________________
...download>>