We provide Quality Custom Kitchen Countertop Fabrication and Installation!
Click HERE to our Extensive Selection of Natural Stone, Quartz & Solid Surface Options Online or at Our Showroom. Or view hundreds of Full Slabs in our warehouse.
VISIT US
Call us at (607)-565-7012 to schedule your showroom visit today!
Walk-ins are also Welcome!
QUOTESTo get a Quote, please email drawing to quotes@nygraniteworks.com
Please include contact information, dimensions, and details.
View Live Inventory at
bravoresourcesinc.com
Counter Top Measuring, Fabrication & Installation in the Rochester Area, Albany Region, Syracuse Central NY Area, Binghamton Region, Western NY & Buffalo Region as well as the Southern Half of PA. Granite Works is the Manufacturer, with State-of-the-Art Water Jet stone processing machines, CNC countertop work stations and the full array slab tooling, moving, direct state side purchasing & direct exotic stone & quartz importing capabilities. Our on site slab inventory offers about 200+ color options with an endless number of other options that can be special ordered.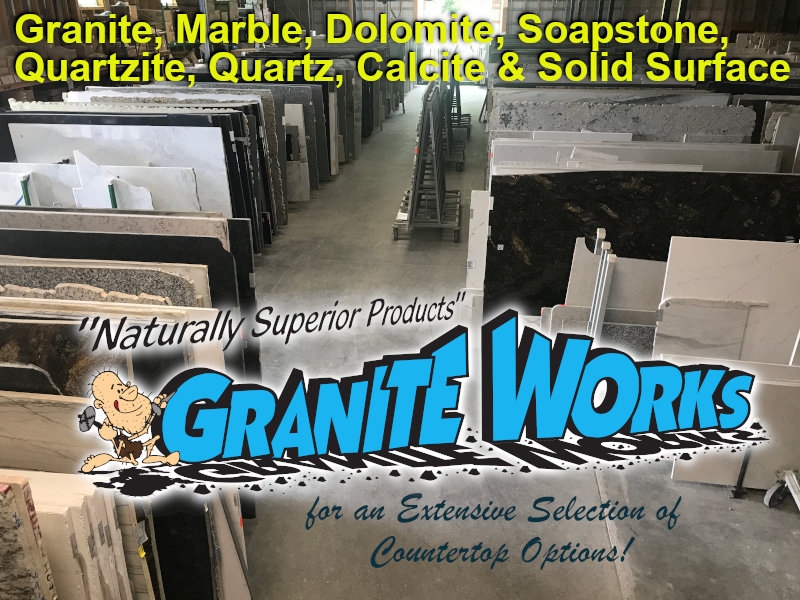 Our dedicated team of professionals will work with you to design, fabricate and install the product that you have always dreamed about.
We offer a wide variety of natural stone countertops, quartz, acrylic and other man-made countertop materials to choose from for your kitchen & bathroom designs. Try us for your next countertop, vanity top, fireplace, table top, tub surround, shower or tile project.
Granite Works LLC
Phone: 607-565-7012, Fax: 607-565-8115
133 William Donnelly Parkway, Waverly, New York 14892
Email: info@nygraniteworks.com
GEO: 42.00978,-76.521535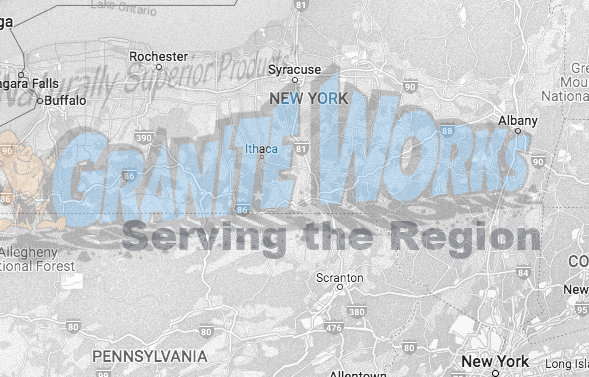 Custom Kitchen Countertops & Custom Vanity Countertops serving the Finger Lakes, Western Region of New York State and the Endless Mountain Region of Pennsylvania including Elmira NY, Sayre PA, Towanda PA, Ithaca NY, Canandaigua NY, Alburn NY, Waterloo NY, Cortland NY, Newark NY, Penn Yan NY, Hornell NY, Wellsville NY, Albany NY, Buffalo NY, Rochester NY, Corning NY, Owego NY, Vestal NY, Binghanton NY, Nichols NY...
*****
Granite Works was great to work with. They are very organized, communicative, and on time. The stone we chose for our new kitchen is perfect. I will also add that working with their sales representative, Tami was great. She is super nice and responsive and greatly appreciate her keeping me looped in throughout the entire process from start to finish. Highly recommend using them if you're planning on renovations and are in need of beautiful stone and great service.